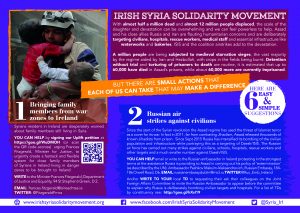 6 Things You Can Do
With almost half a million dead and half the population of Syria displaced, the scale of the slaughter and devastation can be overwhelming and we can feel powerless to help. Assad and his close allies Russia and Iran are flouting humanitarian concerns and are deliberately targeting civilians, hospitals, rescue workers, medical staff and essential infrastructure like waterworks and bakeries. ISIS and the coalition airstrikes add to the devastation. A million people are being subjected to medieval starvation sieges, the vast majority by the regime aided by Iran and Hezbollah, with crops in the fields being burnt. Detention without trial and torturing of prisoners to death are routine, it is estimated that up to 60,000 have died in Assad's prisons, while about 60,000 more are currently imprisoned.
But there are small actions that each of us can take that may make a difference. Here are 6 of them:
Bringing family members from war zones to Ireland
Syrians resident in Ireland are desperately worried about family members still living in Syria.
You can help by signing our Uplift petition urging Frances Fitzgerald, Minister for Justice, to urgently create a fastrack and flexible system whereby close family members of Syrians in Ireland living in danger zones can be brought to Ireland. https://my.uplift.ie/petitions/fastrack-flexible-family-reunification-for-family-members-trapped-in-active-war-zones?source=twitter-share-button You can email/write to the Minister Frances Fitzgerald, Department of Justice and Equality, 94 St Stephen's Green, Dublin 2. frances.fitzgerald@oireachtas.ie twitter @FitzgeraldFrncs
Russian strikes against civilians
Since the start of the Syrian revolution the Assad regime has used the threat of Islamist terror as a cover for its war. In fact in 2011, far from combating Jihadism, Assad released thousands of known Jihadists from prison.  Since September last year Russia has intensified its bombing of the civilian population and infrastructure while portraying this as a targeting of Daesh/ISIS. The Russian air force has carried out many strikes against civilians, schools, hospitals, rescue workers and other targets and a much smaller number against Daesh/ISIS.
You can help by emailing or writing to the Russian ambassador in Ireland protesting in the strongest terms at the assistance Russia is providing to Assad in carrying out his policy of 'extermination' – the word the UN applied to his actions. Ambassador Peshkov Maksim Aleksandrovich, Russian Embassy, 184-186 Orwell Road, Dublin 6. Tel 01 4922048 email russianembassydublin@mid.ru Twitter @Rus_Emb_Ireland
You can also write to your local TD to ask them to ask their colleagues on the Joint Foreign Affairs Committee to invite the Russian Ambassador to appear before the committee to explain why Russia is deliberately bombing civilian targets and hospitals. TD email addresses are firstname.surname@oireachtas.ie For a list of TDs by constituency http://www.oireachtas.ie/members-hist/default.asp?housetype=0&HouseNum=32&disp=mem
Solidarity with targeted professions
Doctors and other medical professionals in Syria have been deliberately targeted for murder by the regime and its allies.  Many journalists have been killed, detained, tortured and disappeared, including Marie Colvin.  Schools have been targeted, with resultant deaths of children and teachers. Half of Syrian children do not go to school.  Civil defence rescue workers are especially exposed by the notorious 'double-tap' airstrike whereby follow up airstrikes are aimed at the rescue team themselves. Irish trade unions and professional bodies could play a part in highlighting the atrocities against their colleagues in Syria, but so far have failed to do so.
You can help by if you, a friend or family member are a member of a trade union such as the NUJ or INTO or professional body such as the INO or IMO, you can lobby your union or body to come out actively and strongly in support of colleagues in Syria who are being slaughtered. Medics, see guidance at https://medicsunderfire.org/en?source=twwb
Use of cluster bombs by Russia
In 2008 the Irish Government played a leading role in negotiating the treaty which banned the use of cluster bombs. A cluster bomb breaks open in mid-air, scattering hundreds of smaller bombs, called bomblets across a very large area. Many of the bomblets fail to explode and lie on the ground, posing a threat to civilians.  Cluster munitions are being used daily by the Russian air force against Syrian civilians. http://sn4hr.org/blog/2016/07/22/24686/
You can help by: writing to or emailing the Minister for Foreign Affairs asking him to raise the use of banned weapons at the UN and to advocate for sanctions against those who use such weapons in Syria and elsewhere. Mr Charlie Flanagan, Department of Foreign Affairs, 80 St Stephens Green. charles.flanagan@oireachtas.ie Twitter @CharlieFlanagan
You can write to Micheál Martin, who was the Minister for Foreign Affairs at the time the treaty was signed, asking him to pursue these illegal and deadly actions by Russia. micheal.martin@oireachtas.ie Twitter @MichealMartinTD
You can also email or write to the Russian ambassador in Ireland protesting at the Russian use of cluster munitions in Syria. Ambassador Peshkov Maksim Aleksandrovich, Russian Embassy, 184-186 Orwell Road, Dublin 6. Tel 01 4922048 email russianembassydublin@mid.ru Twitter @Rus_Emb_Ireland
Distribution of humanitarian aid to all areas in need
A million Syrians have been besieged for the past three and a half years and are starving to death, deprived of food and medicines. Almost all of these sieges are being perpetrated by Assad who has absolutely refused to allow any but a token amount of humanitarian aid to be delivered to areas he is besieging.  The UN does deliver aid to areas under government control, which discriminatory practice is effectively supporting the regime's war effort. Irish aid is mostly delivered via the UN, so it has become a direct support to Assad.
You can help by emailing or writing to the Minister for Foreign affairs to ask him to insist that UN aid is distributed to all areas of need in Syria and to strongly advocate the use of airdrops in areas where Assad refuses to allow aid to be delivered. Mr Charlie Flanagan, Department of Foreign Affairs, 80 St Stephens Green, Dublin 2. charles.flanagan@oireachtas.ie Twitter @CharlieFlanagan #LetAidIn.
Involve the media
The media in Ireland, print, broadcast and online, have been very unresponsive to the Syrian situation.  What little coverage there has been while sometimes excellent has very rarely focussed on Assad and Russia's bombardments and atrocities – which account for 95% of civilian deaths in Syria – and has sometimes been barely disguised pro-Assad propaganda. For example as we write, Aleppo has been surrounded by regime forces and 300,000 people are being bombed daily, hospitals have been eradicated, over 200 people a day are dying and the entire population is on the cusp of genocide by starvation. Yet there has been almost no coverage of this situation on RTE or other national TV and radio stations or in national newspapers.
You can help by: Contacting national and local media outlets, requesting that they accurately and comprehensively cover the situation in Syria. Retweeting tweets describing the situation in Syria to media outlets and journalists asking them to report on it. Writing to newspapers. Challenging lack of or inaccurate coverage where it occurs. @rtenews; @rte; @TV3Ireland; @TG4TV; @NewstalkFM; @RTERadio1; @rteradio2 @IrishTimes; @Independent.ie; @sundaybusiness